Outreach

"To strengthen and grow the Canadian space community through inspiring and training the next generation of scientists and engineers."
Faculty and students associated with Western Space are outstanding researchers and scholars whose community leadership compels them to share their passion and expertise with communities at home in London, Ontario and across the country, and to inspire the next generation of scientists and engineers. Our community is pleased to offer hands-on workshops for youth, learning kits for classrooms, Western Worlds podcasts and stellar public presentations and events. Let us bring the joy of learning and the wonder of space into your life.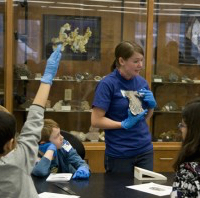 We are happy to report that our commitment and focus on education and outreach is stronger than ever. We offer inquiry based outreach activities where graduate students from the institute engage with students on a wide range of topics.