Western University - Nuvavut Arctic College CubeSat Project
Western University - Nunavut Arctic College CubeSat Project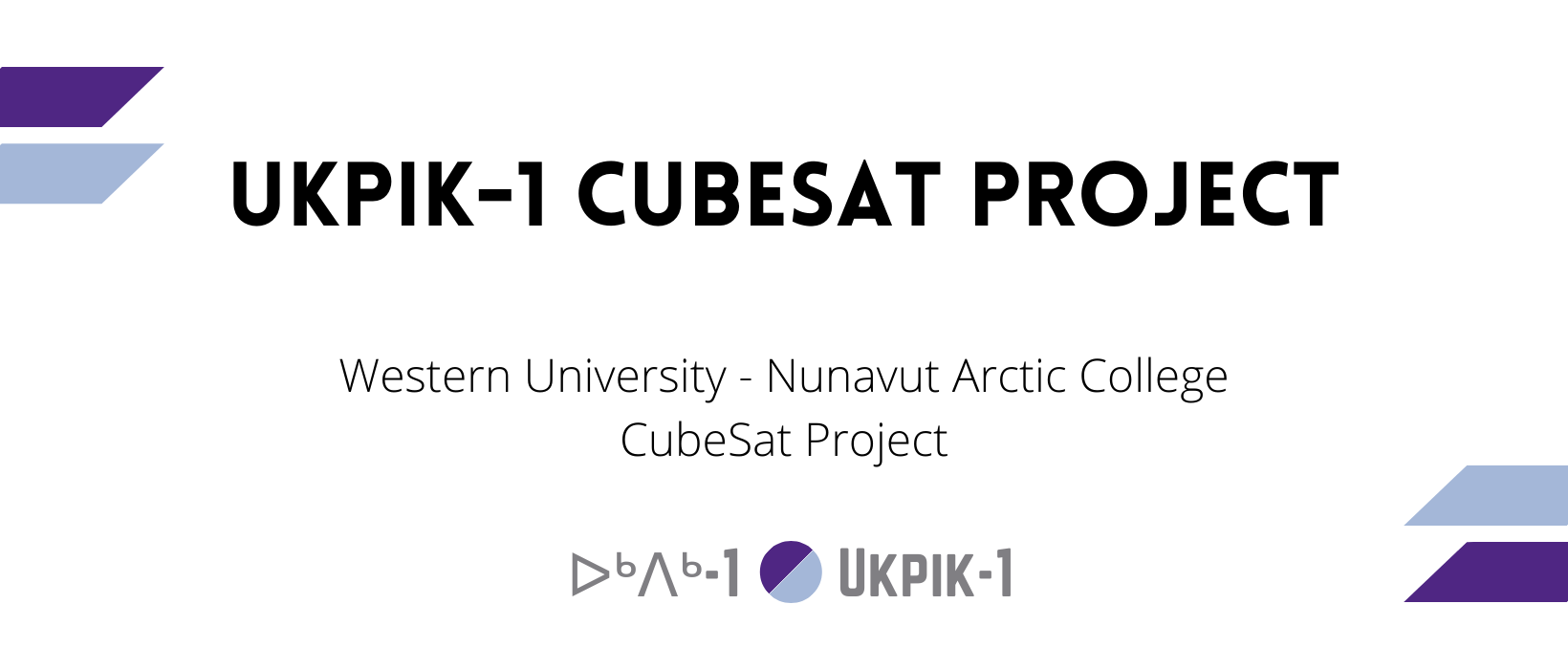 On June 5, 2023, at 11:47 am EST, Western University and Nunavut Arctic College Ukpik-1 CubeSat successfully launched into space aboard a SpaceX Falcon 9 rocket from launchpad LC-39A at the Kennedy Space Center in Cape Canaveral, Florida. Read on for an overview of the project!
What is the Project?
The Ukpik-1 CubeSat is a small satellite being designed, assembled, and tested by students at Western University. The project is made possible through a national program led by the Canadian Space Agency (CSA), the Canadian CubeSat Project (CCP). The CCP offers post-secondary institutions the opportunity for their students to take part in a real space mission by designing, building, launching, and operating their own miniature satellite, called a CubeSat. 
Mission Objectives:
The main purpose of the CubeSat project is for Western students to gain experience in the space domain, working alongside the Nunavut Arctic College (NAC) and the Canadian Space Agency to develop a CubeSat and ground station. This educational opportunity and its learnings will also be extended to other Western students and the STEM outreach program development and delivery, particularly once the ground station is operational. Our future objective is to construct the first ground station in London, Ontario, which will be available to the public, so that others can gain experience and educate themselves about amateur radio operations.
A secondary goal will be to operate an immersive virtual reality camera in orbit, with amateur radio users and NAC students having a say in what photos are acquired.
What is a CubeSat?
A CubeSat is a type of nanosatellite that is cube- or rectangularly-shaped. CubeSats are relatively quick, easy, and inexpensive to design and manufacture. At Western, CubeSats are recognized as an accessible method for post-secondary students to learn about and demonstrate a satellite with the associated technologies and resources.
How did the project start?


On May 4, 2018, CSA announced the winners of the Canadian CubeSat Project. Proposal led by Western University, in partnership with Nunavut Arctic College, was one of the 15 successful proposals. The project at Western University is led by Department of Electrical and Computer Engineering and Western Space faculty member, Dr. Jayshri Sabarinathan. 
Who is on the team?
-  Principal Investigator: Dr. Jayshri Sabarinathan
-  Co-investigators: Dr. Gordon Osinski, Dr. Kenneth McIsaac, Dr. Livio Tornabene
-  Project Manager: Alexis Pascual
-  Deputy Project Manager (& Technical Lead): Stephen Amey
-  Communications Technical Lead: Mackenzie Essington
-  Educational Outreach Coordinators: Wen Bo, Sara Mohamed
-  Industry partners: Canadensys Aerospace, MDA, AGI
-  
Jason Carpenter, Senior Instructor - Environmental Technology Program at NAC
We also thank all other students who volunteer their time to design, build and test the Ukpik-1 CubeSat!



First row (left to right): Mackenzie Essington, Wen Bo, Jayshri Sabarinathan, Jin Sia, Stephen Amey, Alexis Pascual
Second Row (left to right): Millpreet Kamboj, Nicole Martensson, Delaney Stevens, Hira Nadeem.
Want to get involved?
We are currently planning for the operational phase of the first ground station in London, Ontario. Any students who either currently have or are interested in obtaining their Amateur Radio Operator Certificate should contact the Communications Technical Lead, Mackenzie Essington at messingt@uwo.ca.
Outreach:
Read about our outreach initiatives to date here.
Interested in sharing our project with your cohort? Contact: cubesat@uwo.ca
Stay tuned for details here as the project develops!