CubeSat Outreach Activities
CubeSat Outreach Activities
Past Activities:
Canadian Space Agency Visit: December 2022
Members of the CubeSat team had the opportunity to visit the CSA headquarters in Montreal to learn more about CubeSat integration and support other teams that are launching soon. 

---
---
Space as a National Asset for Canada (SNAC2022): October 31st - November 2nd, 2022  

Cubesat team members attended Space as a National Asset for Canada conference, where they presented a poster about the cubesat that they are designing, building and testing here at Western University. Team members had the opportunity to talk with conference participants about UKPIK-1!
---
---
Meeting astronaut Jeremy Hansen! 

Canadian Space Agency astronaut Jeremy Hansen was in in Waterloo on July 23rd for an event at the City of Waterloo Museum. The CubeSat team was invited to join the event and met with him! 
---
---
Space Camp 2022

Western Engineering in partnership with Western Space is offering space camp to students in grade SK-8. Students will be taken on an adventure of a lifetime as they explore planet atmospheres, how rockets work and programming rovers to do different tasks in space.
CubeSat team members, Paula Bosca and Jin Sia joined space camp to chat with camp participants about the cubesat that Western is designing, building and launching. The students were super excited to see our cubesat prototype and they asked great questions about the satelitte, the cameras, and what it will do once launched in space.  
---
---
Western SHAD 2022

As a participating campus with SHAD Canada, high school students part of the SHAD program were at Western University for a month-long university experience. These students stayed in dorms on campus, participated in STEAM-focused activities, social events, and more.
They got the opportunity to also meet and learn about the Ukpik-1 team and important considerations for satellite design.
---
---
Space Day: May 2022 

On May 17th, 2022 Western Space hosted their annual Space Day in-person. It was an opportunity for faculty members and students to re-connect and share about their exciting research and collaborative efforts. 
Dr. Jayshri Sabarinathan and members of her CubeSat team joined Space Day and shared about the project and their progress to-date!
---
---
Science Rendezvous: May 2022

Members of the CubeSat team joined Western Space at Science Rendezvous on May 7th, 2022. It was a fantastic event that had over 4,000 attendees! The CubeSat team chatted with booth vistors about what a CubeSat is and how they are designing, building, launching, and operating their own miniature satellite. 
Team members also presented on stage about the project and facilitated a fun Kahoot game for event participants! 
---
---
Send Your Name to Space Competition: April - May 2022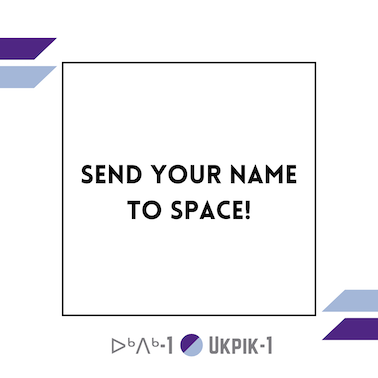 In April 2022, we announced our "Send Your Name to Space" competition on social media, where we invited people to complete a form for a chance to get their name engraved on our satelitte (the Ukpik-1 CubeSat). Below is what we shared a few times across our social media platforms: 
Do you want to send your name to space? Keep reading for a chance to get your name engraved on a satellite (the Ukpik-1 CubeSat) created by Western University and Nunavut Arctic College students launching next year!
HOW TO PARTICIPATE:
Simply enter your name and contact info in the Google Forms.
Due to the limited space on the satellite for engravings, only a few names will be drawn at random to be engraved. We will contact you by the end of May 2022 if your name was selected, and you will receive an official digital certificate and a digital image of your name engraved on our CubeSat. 
The campaign generated engagment and shares and we have recieved 85 entries. Those who were selected to get their names engraved were contacted by us.