Meteorite Collection

As Canada's leading research centre for planetary science and space exploration, Western Space is home to a collection of nearly 300 meteorites and provides a means for our researchers and students to examine and explore planetary materials and processes. This collection contains a spectacular range of international and Canadian observed fall meteorites including the main mass of the Dresden ordinary chondrite (1939), large portions of the Tagish Lake carbonaceous chondrite (2000), and the Grimsby ordinary chondrite (2009).
---
Western Meteorite Collection
The Western Meteorite Collection is an approved repository of the Meteoritical Society. Our researchers' laboratories are equipped with state-of-the-art instrumentation for meteorite classifications and research studies.
Our researchers can establish the physical characteristics of meteorites such as their magnetic susceptibility, density, and porosity. A 3D-computed tomography X-ray scan can provide a visual of a meteorite's interior. Researchers can also measure the chemical compositions of meteorites by electron microprobe (EPMA Lab) for in-situ mineral analyses. We can also measure the isotopic compositions of meteorites for their oxygen (LSIS) for classifications or to establish their origin and formation.
If you are a researcher interested in applying for a sample loan for your research activities or if you need to obtain meteorite analyses for classification or collaborative research, please contact the Western Meteorite Collection Curator.
If you are interested to have your meteorites classified in our laboratories (at a fee to cover our analytical expenditures) and named officially by The Meteoritical Society, please go to the following website and follow the instructions. Please note that only specimens that are believed to be meteorites will be responded to. If a mass meets the society's requirements, a sample repository will have to be donated to our collection for long-term curation and research activities.
---
Outreach
The meteorite collection also facilitates Western Space's teaching and outreach programs by providing samples for laboratory classes in undergraduate and graduate courses and for outreach activities on campus and in local schools. These materials provide students with a hands-on learning experience where they get to look at the oldest rocks formed in the Solar System!
---
Public events
The Western Meteorite collection has a meteorite display located on the first floor of the Biological and Geological Sciences Building on the Western campus. It is accessible during the building opening hours from Monday to Friday, and during our open house events.
The collection is also engaged in public events throughout the year, in partnership with the Cronyn Observatory at Western. Meteorite enthusiasts are invited to bring their rocks which they think may be meteorites. Our current annual event is on Asteroid Day on June 30th. Other events may be organized throughout the year, please check our Events page for more details.
If you can't wait until then and think you've found a potential meteorite here are some useful resources to help.
The collection relies on the service and volunteering of university personnel. Due to a substantial rise in demand as well as budget constraints and staff limitations, the Western Meteorite Collection in no way responsible for answering emails and to voicemails, or for returning any specimens sent to us. Staff members are available for walk-in opportunities only during our organized public events (see above).
Please check the links above first and carefully start your evaluation. Many Earth rocks might look like meteorites, but meteorites have distinct physical characteristics that set them apart from Earth rocks. They are highlighted on these pages.

Here is a useful flow chart to assist in identifying meteorites: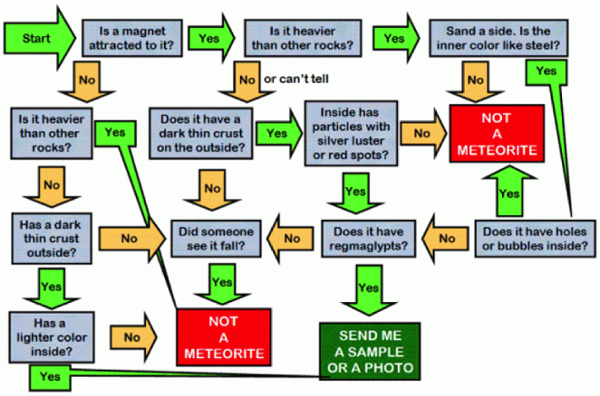 Credits: R. Korotev, Washington University.